Create the optimum indoor climate and save energy
How do you create a warm welcome for customers and visitors with an open door and without your employees out in the cold! An air curtain produces a warm airflow in winter and a refreshing or even cooled airflow in summer. Whatever your climate or situation, with an NHS air curtain you create an optimum indoor climate and you save energy.

What is an air curtain?
An air curtain is a controlled airflow that reduces the natural air exchange between rooms. An air curtain is situated in a door opening or entrance and keeps rooms with different climates separated when the door is open. For example a cold store of a company or the indoor and outdoor climate of a supermarket, warehouse, bank, hospital or office building.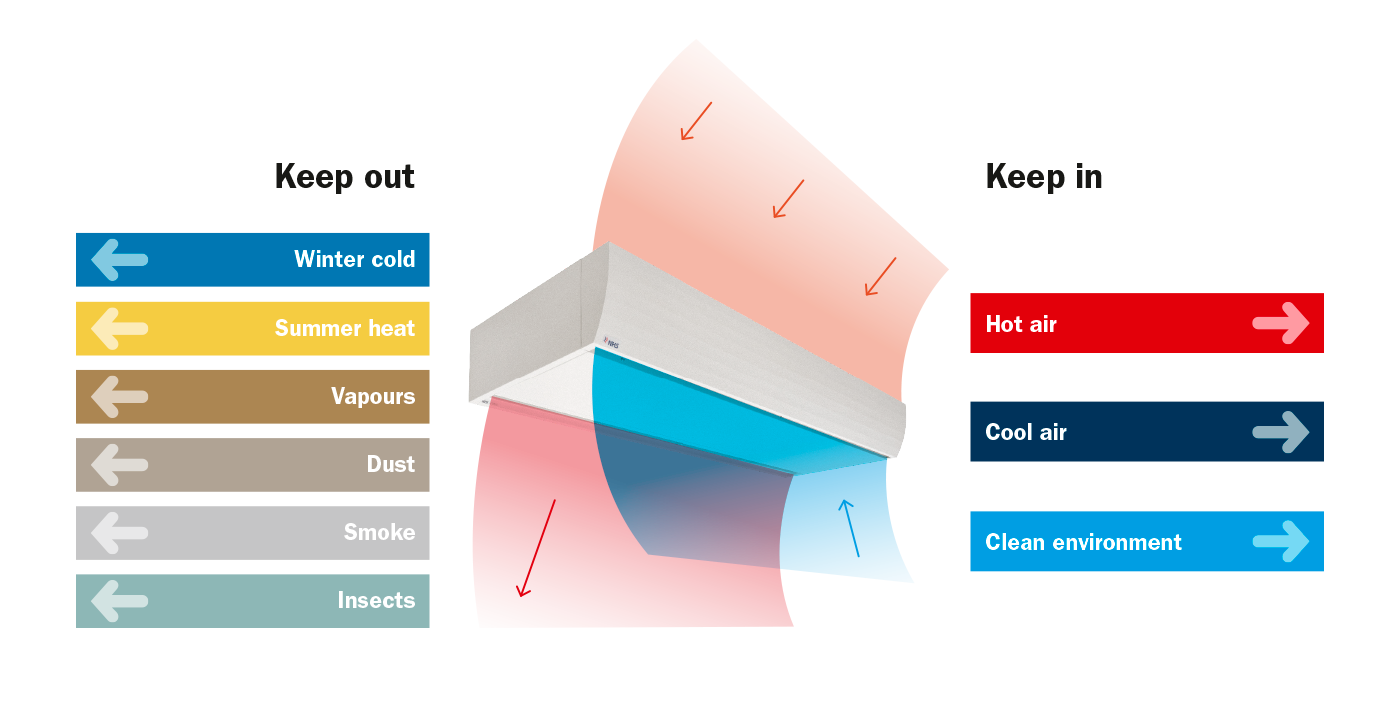 Why have an air curtain?
The most important objective of an air curtain is to reduce air exchange to create a controlled, healthy and comfortable climate. In addition, you can use a heating or cooling element to heat or cool air locally.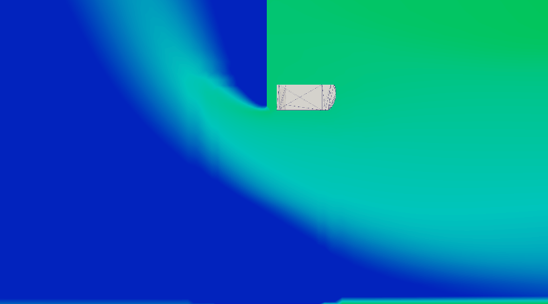 A large amount of heat is often lost near doors without an air curtain.
How does an air curtain work?
A heated airflow stops the colder air from outside. The airflow also heats the very small amount of cold air that manages to penetrate despite the airflow. This produces a comfortable indoor climate and a thermally neutral climate separation without draught. When it is warmer outside than inside? In those situations it works the other way around – with an unheated or cooled airflow, the air curtain makes sure the warm air stays out.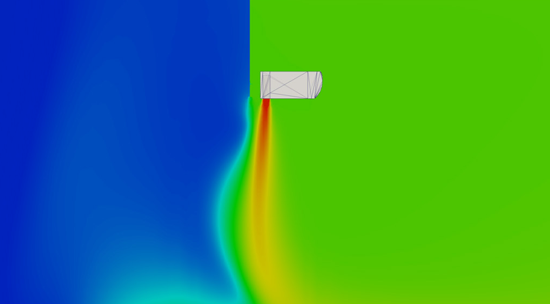 The airflow of an air curtain works like an invisible door that keeps the climate of two different rooms separate from each other.
Minimum energy loss and consumption
70% to 80% energy savings compared to open door
Optimum thermal comfort for a pleasant climate for shopping or other purposes
Improved air quality for visitors and employees
Healthier environment and less sickness absence because of protection against draught
Reduced exchange of dust, moisture, smells and fewer insects inside the building
Warm, refreshing or cooling airflow
Why is the right discharge temperature important?
The right discharge temperature produces an efficient and energy-saving climate separation. If the discharge temperature is too high (>40ºC), the airflow struggles to reach floor level and there is still air exchange. Furthermore, an airflow that is too warm also heats up the entrance too much and that disturbs the indoor climate and wastes energy. A discharge temperature that is too low (<28ºC) also disrupts effective operation. Together with an insufficiently strong airflow, it produces a temperature at floor level that is too low, causing a draught.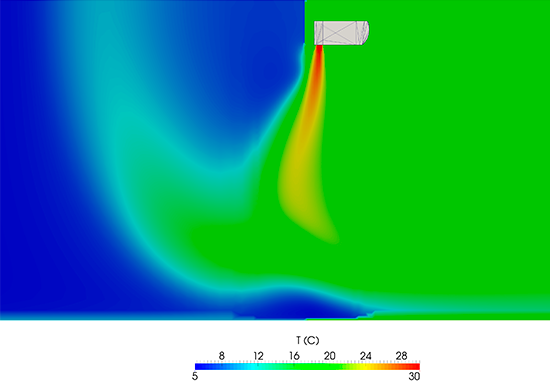 Een onvoldoende sterke luchtstroom verstoort een effectieve werking en is energieverspillend
Prevent a discharge temperature that is too high with a discharge-air temperature control. NHS Luchtgordijnen can supply it as an accessory or incorporate it into the air curtain.
Install air curtains flush with the door opening to prevent air exchange and energy loss through the sides.
Be sure that the airflow is not interrupted by obstacles, such an automatic door or a roller door.
An air curtain works in the best possible way when the effective part of an air curtain, the airflow, has at least the width of the door opening and can be felt right down to floor level. If the airflow does not reach the floor, cold air can enter, whilst warm air escapes outside and that creates a draught.
For optimum low-energy consumption, opt for a semi-automatic or fully automatic control. This uses a few parameters to adjust the operation of an air curtain to changing conditions. For example, consider adjusting the size of the airflow during cold weather or putting the air curtain on stand-by or switching it off when the door is closed.
Install air curtains exactly above the door opening. The shorter the distance to the floor, the less energy required.
Adjust the discharge angle of the air curtain with the settings of the discharge fin. For example when you need to heat during winter, you tilt the discharge fin slightly outwards. When you cool in summer, you tilt it slightly inwards.