The air curtains of our Superior XL series are extremely suitable for retail or use in an industrial environment because of their enormous capacity and low-maintenance components. We supply air curtains with two different capacities for door heights of up to four metres. Ideal for tall shop doors, industrial doors, overhead doors or sliding doors. The four length sizes are easy to combine, so you can create an effective air curtain for any door width.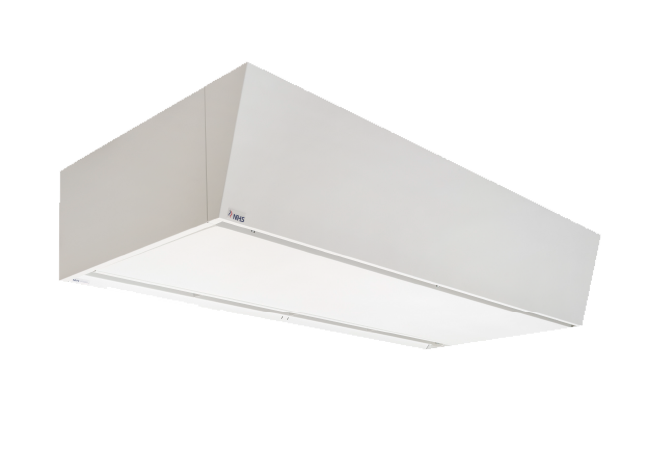 Superior XL
Wall or ceiling mounted in plain view with air intake top and bottom.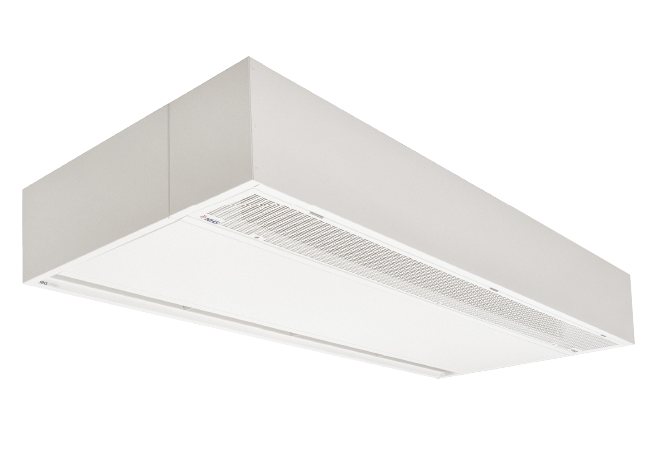 Superior XL GVP
For mounting in plain sight or for recessing into a suspended ceiling, with visible bottom and air intake from below.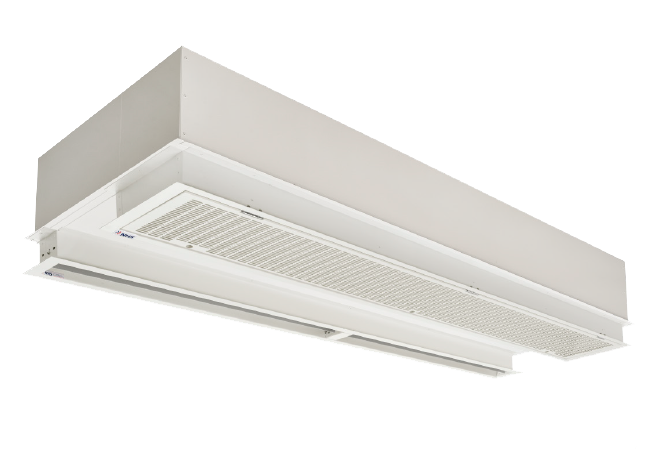 Superior XL BVP
Built-in above the suspended ceiling, with just the air intake and discharge opening visible and with air intake from below.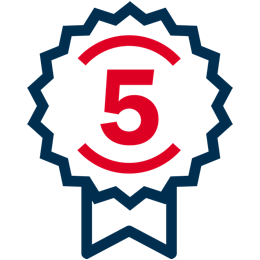 High quality and low maintenance
All the components of the air curtain, including the front panel, the heating battery and the fans, comply with the highest quality standards and produce an optimum performance. Weekly or monthly time-intensive maintenance is not required. When you purchase a Superior XL air curtain, you receive a standard five-year guarantee.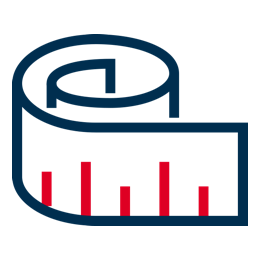 Ultramodern discharge system
The discharge opening is equipped with a special pressure chamber jet system that produces up to 30% energy savings compared to conventional fin discharge systems. This modern system also produces an even, stable airflow. The discharge opening has continuously variable settings from 30 degrees inwards to 30 degrees outwards.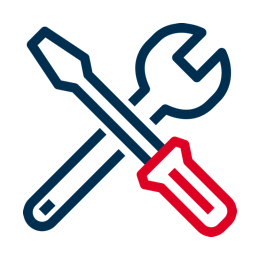 Horizontal or vertical installation
Horizontal and vertical installation are possible. Horizontal air curtains are easy to mount to the wall with M10 stud fixings or with brackets that can be ordered separately. For extremely tall doors we recommend vertical installation. Vertical air curtains are supplied with consoles for fixing to the floor or for mounting on top of each other. Due to the risk of tilting, it is important to anchor the top air curtain to the wall or the ceiling.
Heating and cooling methods
Hot water

Air curtains that are heated by hot water have a heat exchanger that is connected to the central-heating network. We equip air curtains with a heating battery as standard, which is suitable for hot water of 80/60ºC and 60/40ºC (W). Air curtains are also available with a heating battery for low temperatures of 45/35ºC (LW).

For optimum energy savings it is always important to adjust your air curtains properly with your central-heating boiler, city or district heating, heat pump or other sources of sustainable energy. The hot-water air curtains are secured against loosening by metal plates around the connections.

Electric

Our electric air curtains (E) automatically adjust the control of heat and ventilation. It goes without saying that these air curtains have a safety circuit.
Ambient

Our air curtains that screen off cold areas such as cold stores do not have a heating battery (A).

Hybrid

Air curtains with hybrid heating (H) are suitable when the temperature of the hot water is low compared to the required heating capacity. These air curtains have an electric heating element that automatically heats up the airflow to the required discharge temperature.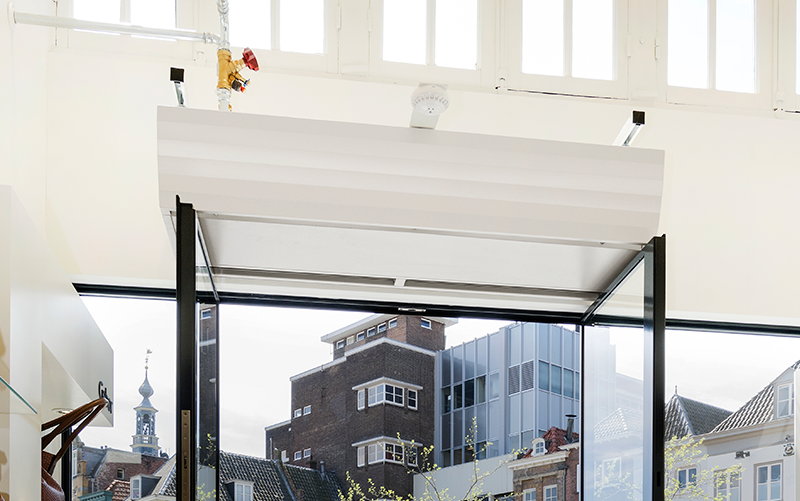 Good to know!
An air curtain with a heat pump is the most energy-efficient heating method. It is approximately 73% more efficient than an air curtain with electric heating.
The energy costs of an electric air curtain are around 53% higher than those of an air curtain that works on the basis of hot water from a central-heating boiler.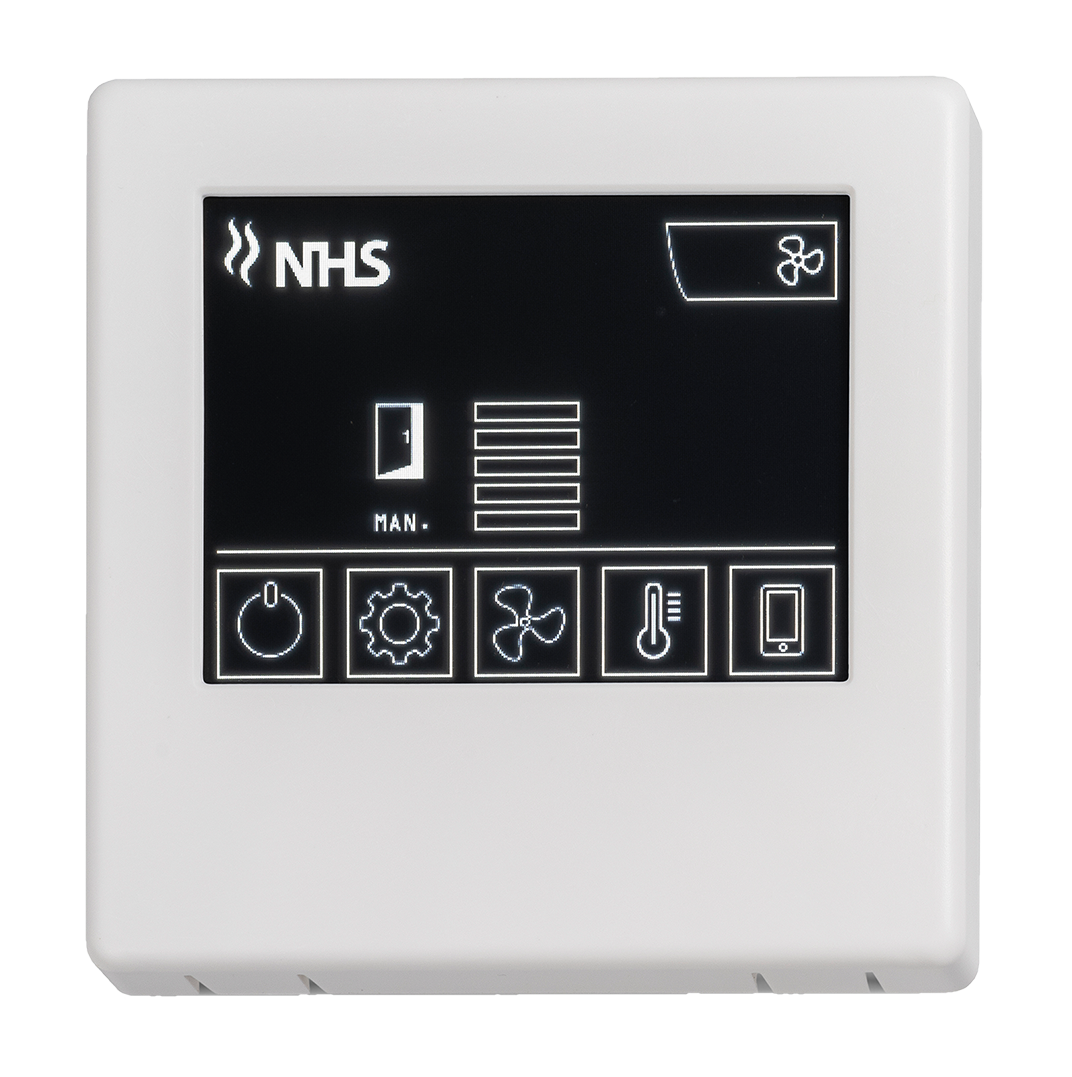 Renewed interface with touch screen
A modern look and improved ease of use: those are the big advantages of the control panel of our air curtains. It gives you even easier access to familiar functionalities. Installation is also easier than ever, as is adjusting settings. The new interface is very complete and among the most user-friendly on the market.
Innovative control
Automatic and semi-automatic control
Do you want to be assured of the correct settings? And don't have to worry about your air curtain? Then the innovative control of NHS Air Curtains offers a solution. You have the choice between automatic and semi-automatic control, depending on the additional functions you select. The big advantage over manual operation? The certainty of an optimal indoor climate and minimal energy consumption. After all, with manual operation you run the risk that the selected settings do not match the circumstances, so that the heated or cooled air still flows away through doors and entrances.
Our innovative control system is suitable for all types of air curtains. From hot water to electric air curtains and from hybrid to unheated and direct expansion air curtains.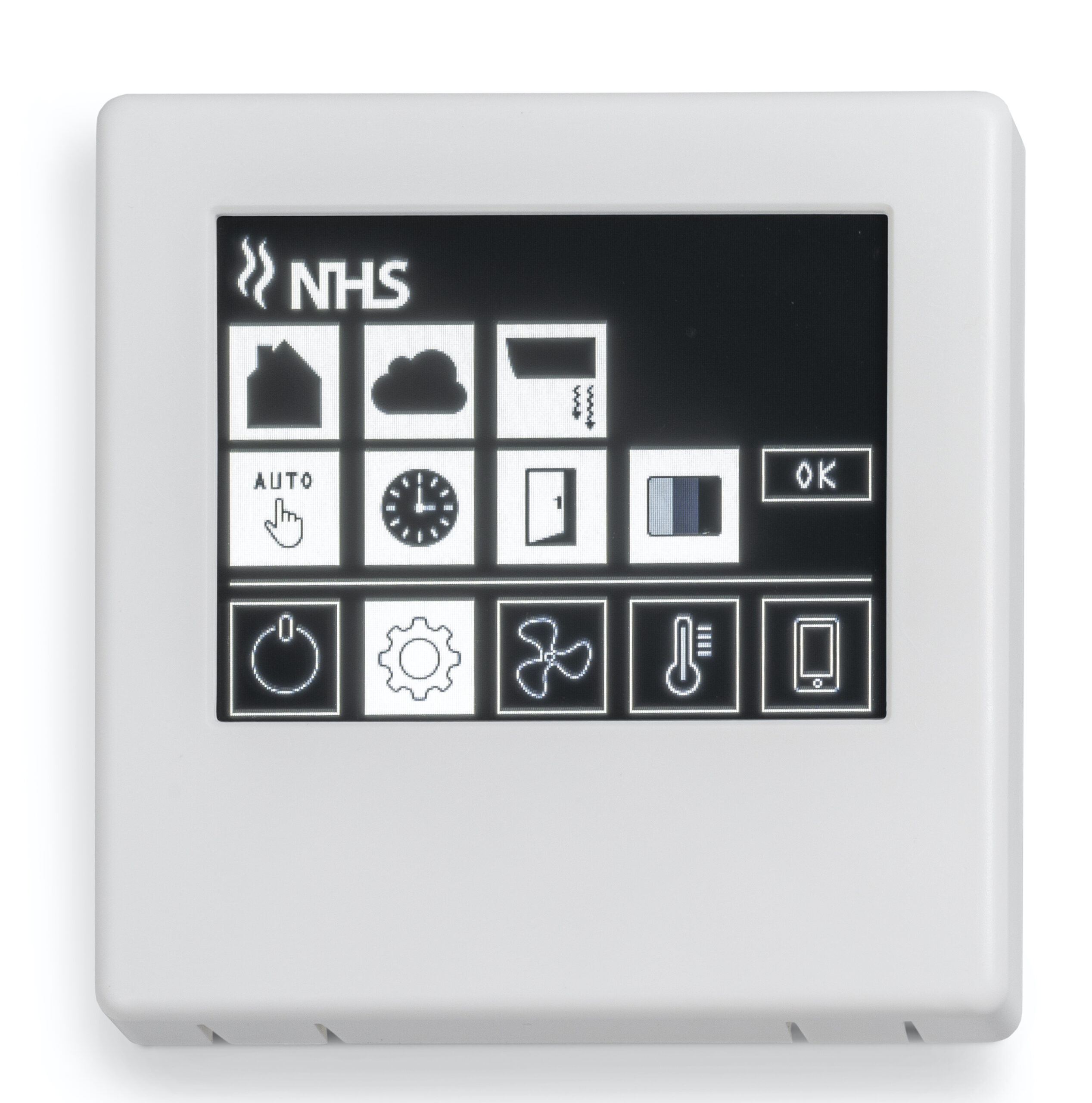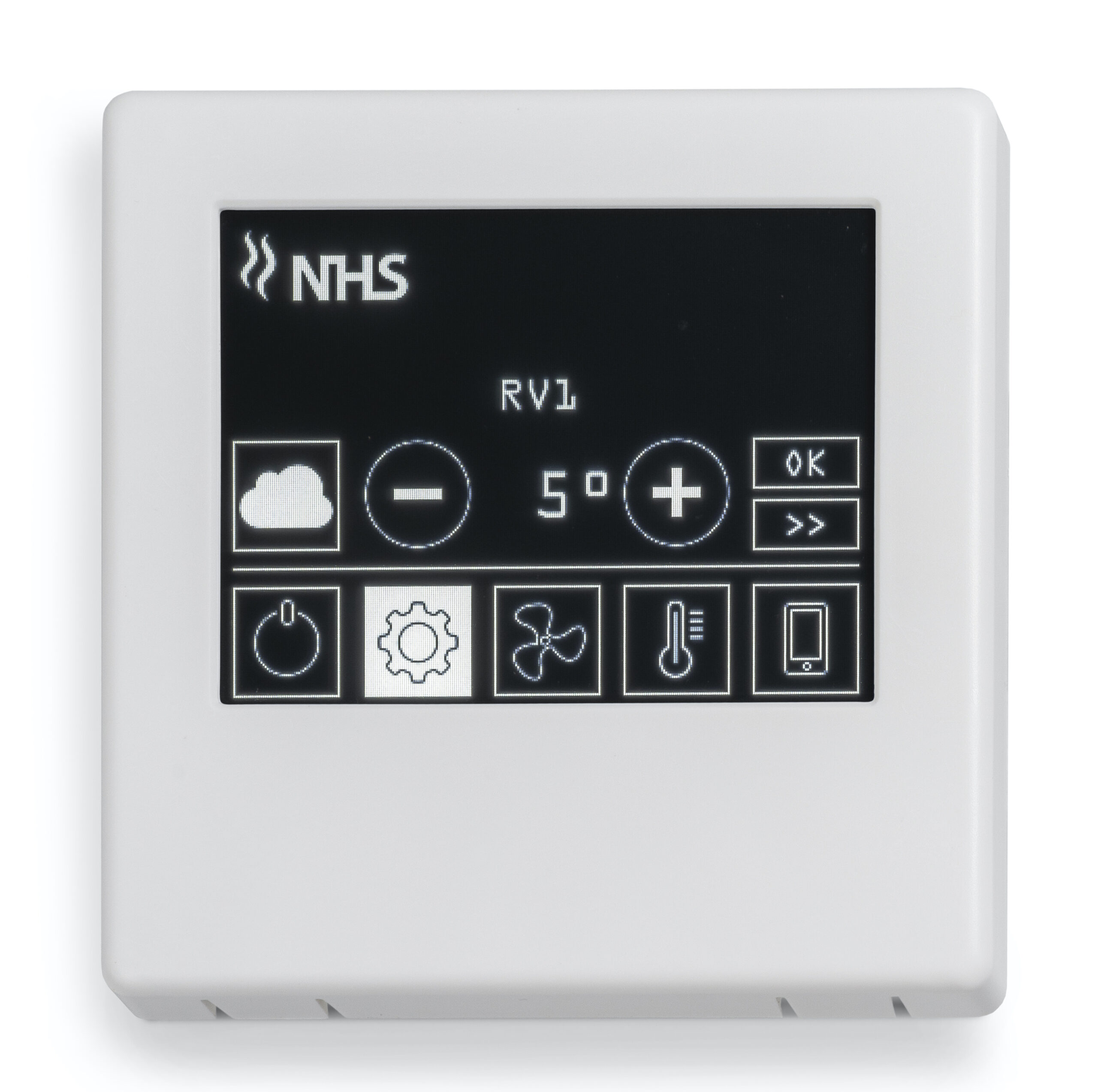 Standard features
Our air curtains are standard equipped with the following functions:
Airflow speed selection (5 positions).
Choice of heating power (with electric air curtain, 3 positions).
Summer-winter function (230V) with solenoid valve or pump control.
Possibility to control several air curtains with one control. Useful for large and wide entrances that require several air curtains.
For air curtains with a filter, a timer is built in so that the user knows when the filter needs to be cleaned.
Partial or full integration into a building management system or retail scheme. For example, you can switch an air curtain on or off via the building management system or operate it with a 0-10V signal.